Helpful Tips & Links
Sage 100 ERP (MAS 90) Tips
Formerly Sage ERP MAS 90 & MAS 200
Report Selection Criteria
If you want to print a report in Sage 100, but want to select non-consecutive accounts, you only need to use a seperator. Learn More
Sage 100 ERP 2017
In October 2017 Sage released Sage 100 2017. Learn More
Learn more about Sage 100 ERP 2016
Sage 100 ERP Payroll
Affordable Care Act (ACA)

Payroll Setup Requirements

Sage support has sent an update for Sage 100 ERP Payroll user advising them to ensure that "Retain Perpetual Payroll History" is activated within the Sage 100 ERP Payroll module. This option will be used in 2015 in order to meet the 2015 Affordable Care Act. Without enabling perpetual history users may not have the option for ACA reporting from Sage 100 ERP payroll. To enable perpetual history in Sage 100 ERP navigate to the Payroll – Setup – Payroll Options. On the main tab ensure that "Retain Perpetual Payroll History" is checked. Learn More
Affordable Care Act (ACA) Reporting
Sage 100 ERP supports the Affordable Care Act (ACA) reporting requirements for 2015 for forms 1094-c and 1095c. There are two ways to access the new ACA Employee Maintenance screens from within Payroll, ACA button in Employee Maintenance and ACA folder on the Main Payroll Menu. Learn More

Sage City ACA Resources


Sage 100 ERP Standard Button Icons:
On Windows 7 workstations the Standard Button icons may be missing from the Launcher. This is caused by resolutions settings in Windows 7.Learn More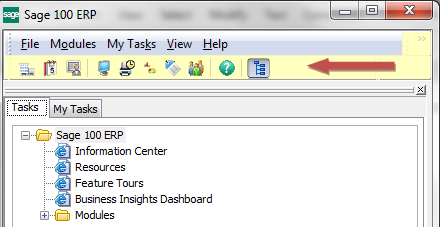 Sage 100 ERP Shortcuts
When entering a large volume of transactions in Sage 100 ERP (formerly known as "MAS 90"), switching between your keyboard and mouse can slow you down and potentially cause errors. All maintenance and data entry windows in Sage 100 ERP share the same set of buttons and keystrokes to help you easily navigate through data and perform tasks quickly. Learn More
Version 4.0 through 2017 Enhancements
The links below provide information on the feature enhancements of MAS 90 and MAS 200 versions 4.0 through Sage 100 ERP 2017.
Sage 100 2017 What's New
Sage 100 2016 What's New
Sage 100 ERP 2015 What's New
Sage 100 ERP 2014 What's New
Sage 100 ERP 2013 What's New
MAS 90/200 4.5 What's New
MAS 90/200 4.4 What's New
MAS 90/200 4.3 What's New
MAS 90/200 4.2 What's New
MAS 90/200 4.1 What's New
MAS 90/200 4.05 What's New
MAS 90/200 4.0 What's New
How to enable company specific background color:
With Sage 100 ERP you have the option of defining company specific background color for companies. This enhancement can be helpful when working in multiple companies. Learn More
How to enable and setup Accounts Payable Expense Distribution Tables:
Using Sage 100 ERP Accounts Payable Distribution Tables will speed up invoice data entry and efficently allocate expenses. Learn More
Tips by Category:
Helpful Links:

Take the Speakeasy Speed Test and test your connection speed! By measuring the download and upload rate you are able to accurately judge your current internet connection speed.

Matt's Free Perl CGI Scripts
FormMail, Counters, Clock, Random Image Displayer & More!