Sage 100 ERP
Formerly Sage ERP MAS 90 & MAS 200
Job Cost Software Solution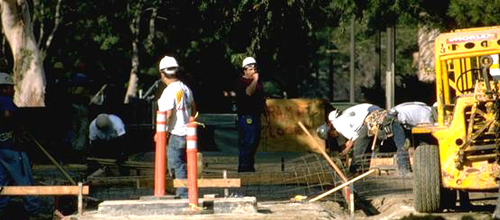 Sage 100 ERP Job Cost modules, Job Cost, TimeCard and Payroll when combined with the core accounting modules, Inventory Management, Purchase Order, and Sales Order provide a complete, flexible, feature-rich and efficient project management, job cost software, and HVAC system.
Job Cost
Powerful management reporting, detailed accounting capabilities, flexibility and control best describe the Sage 100 ERP Job Cost module. This module is specifically developed for general contractors, HVAC contractors, subcontractors, architects and engineers in construction and project-oriented industries. Powerful built-in applications with Job Cost include Project Estimating, Billing, and Time and Materials Invoicing to streamline the entire process. Job Cost can integrate with several Sage 100 ERP modules - ensuring your ability to share common information. In today's competitive market, with profit margins getting tighter, the Job Cost module is an essential management tool for keeping a close eye on project profitability.
To learn more, download the Sage 100 ERP Job Cost Brochure
TimeCard
Sage 100 ERP TimeCard module is a powerful and flexible addition to the Payroll and Job Cost modules. Payroll data entered in TimeCard updates to the individual jobs to report current payroll cost analysis by job. Enter employees time card data on any schedule desired, then hold this information until you are ready to run your next payroll. The Certified Payroll Report feature allows you to flag labor codes and job numbers, then generate reports for submission to most government agencies.
To learn more, download the Sage 100 ERP TimeCard Brochure
Payroll
One of the most time-consuming and tedious tasks of running a business is payroll preparation. The Sage 100 ERP Payroll module makes in-house payroll preparation easy, providing you with the ability to process it at a fraction of the cost and time a manual payroll system or outside service bureau might take. In addition, the reporting capability gives high-level business insights into employee deployment and costs, enhancing your ability to make the right business decisions.
To learn more, download the Sage 100 ERP Payroll Brochure
Inventory Management
the Sage 100 ERP Inventory Management module provides insightful data pertaining to the receipt of goods, the movement of goods within or between locations, the sale, removal or other disposition of goods, and the precise valuation and status of goods remaining in inventory at any point in time. Fully integrated with other Sage 100 ERP modules, Inventory Management is the cornerstone of an effective project management solution.
To learn more, download Sage 100 ERP Inventory Management Brochure
Purchase Order
Adding the Sage 100 ERP Purchase Order module to the Sage 100 ERP Job Cost software system organizes and streamlines the important task of ordering products, and helps you keep accurate records of these significant transactions. When the Purchase Order module is integrated with Accounts Payable, Inventory Management and Sales Order, you will have a comprehensive, fully integrated purchasing system allowing you to receive goods into Inventory Management and post invoices to Accounts Payable in one easy step.
To learn more, download the Sage 100 ERP Purchase Order Brochure
Sales Order
Sage 100 ERP Sales Order module gives you quick and accurate access to product availability, flexible pricing including special discounts, credit card limits and much more. You can also automatically generate invoices and print daily backorder reports.
To learn more, download the Sage 100 ERP Sales Order Brochure